I have posted back in 2009 that I purchased a pre-painted resin figure of Volks' Hatsune Miku from e2046. This particular Hatsune Miku resin kit was original released by Volks Japan in Wonder Festival 2008 at an price of ¥14,490. It was later released by Volks Japan as a 1/6 PVC figure in August 2008 with an MSRP of ¥7,140. Now e2046 sells recast resin garage kit as well as pre-painted recast resign figures. And in case you are wondering, yes they simply made copies of the original kit and sell these copies. Now I do try to avoid these recast figures, but because garage kits in Japan are very expensive and very limited in production quantity, it is not always possible to get my hand on the original. And because garage kits are typically produced in such tiny small quantities and that they do not have any lost of market outside Japan, I do from time to time buy recast garage kits from places like e2046. However, if possible, I do still want to get my hand on the original.
Around end of 2009 and beginning of 2010, Volks Japan did another re-issued version of this figure as an "Encore Package" during Comiket 77 (December 29-31, 2009) and New Kit Exhibition 2010 (January 1-11 2010). And so my quest to get the original started.
Hatsune Miku Encore Package 1/6 PVC by Volks (初音ミク アンコールパッケージ). Original Sculptor Milchstraße (ミルヒ・シュトラーセ). Released on May 2010 with an MSRP of ¥7,560.
Here's what the box looks like, front and back.
Volks has provided a lot of extra parts this time. There's an extra head with the original expression, and 3 extra hand for may different poses.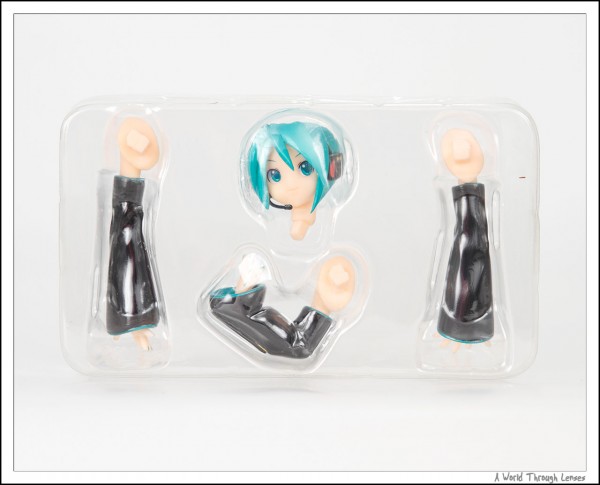 Volks Japan does not sell this figure to people outside of Japan. Comiket 77 you have to order in person and so that was out of the question for me. But I was able to place an order on Volks Japan's web site during their New Kit Exhibition 2010 (January 1-11 2010). Because Volks don't sell or ship this figure outside of Japan, I had to use a package forwarding service so I had Volks ship the figure to an address in Japan, then the package forwarding service forward the package to me here in North America. It's a bit of hassle and a bit more expensive than usual, but like I said, I would get the original version when possible instead of always feeding the recasters.
Here's Miku in her the default pose straight out of the packaging. Even though I've owned the pre-painted resin for some time now, I am still really happy to see Miku's large twin tails.
A little close-up for our uta hime.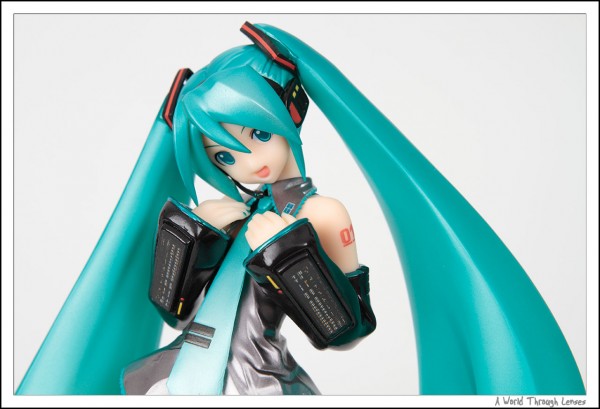 And here it is with different hand parts put on, Miku can be posed with a couple of different poses.
A couple of more close-ups with different poses.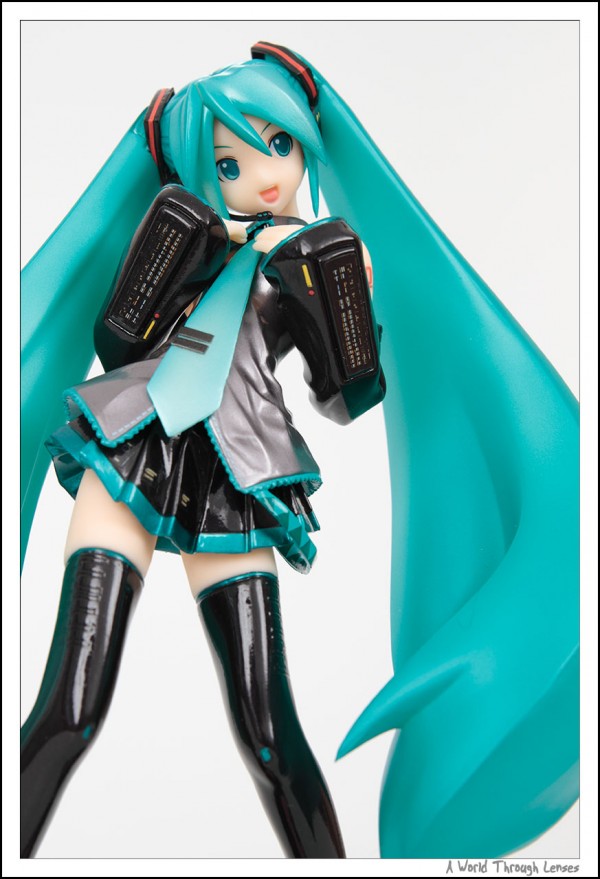 I like the hands extended pose a lot. And this is the way original resin kit's hand is posed. I guess that was what captured my attention back when I first saw picture of the resin kit 2 years ago.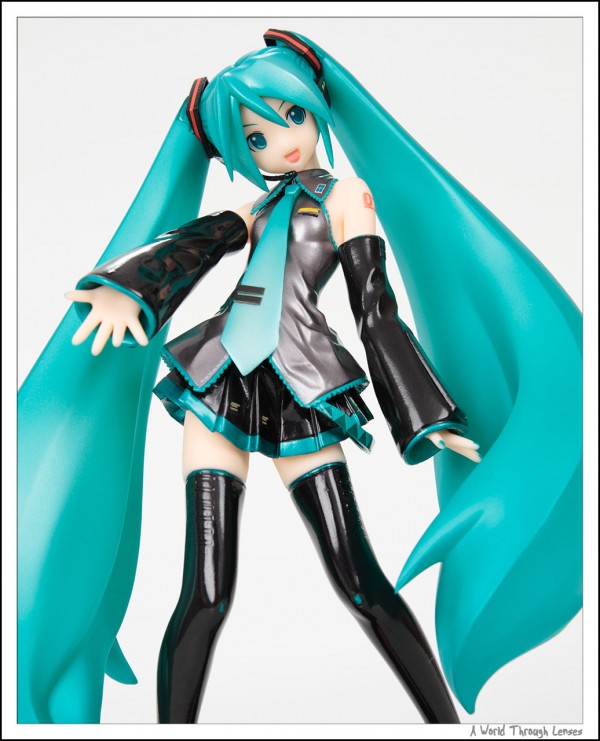 The only thing I see missing in this package is her signature leek. Volks really should have a hand that can hold the leek. Then it will be perfect.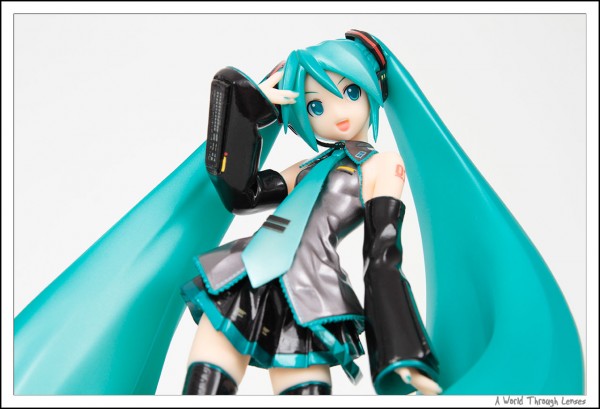 The extra head has the original garage kit's facial expression.
A couple of more close-ups with the original head.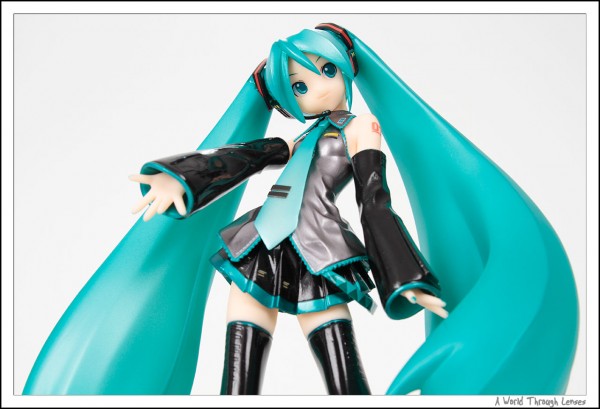 Personally I do like what Volks has done with the new head. But it is nice that they have also provided the original head so that you can pose her in many different ways.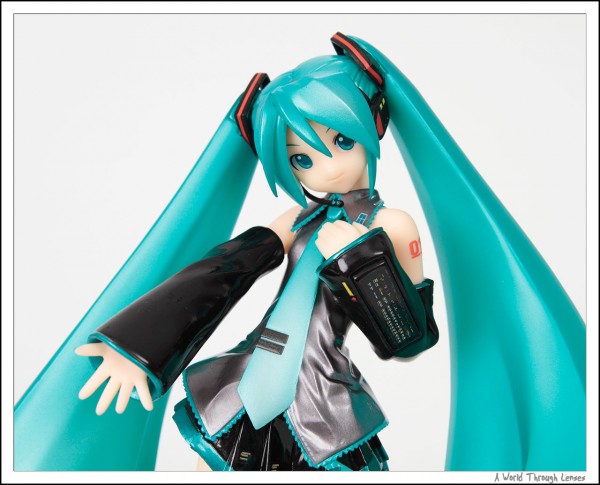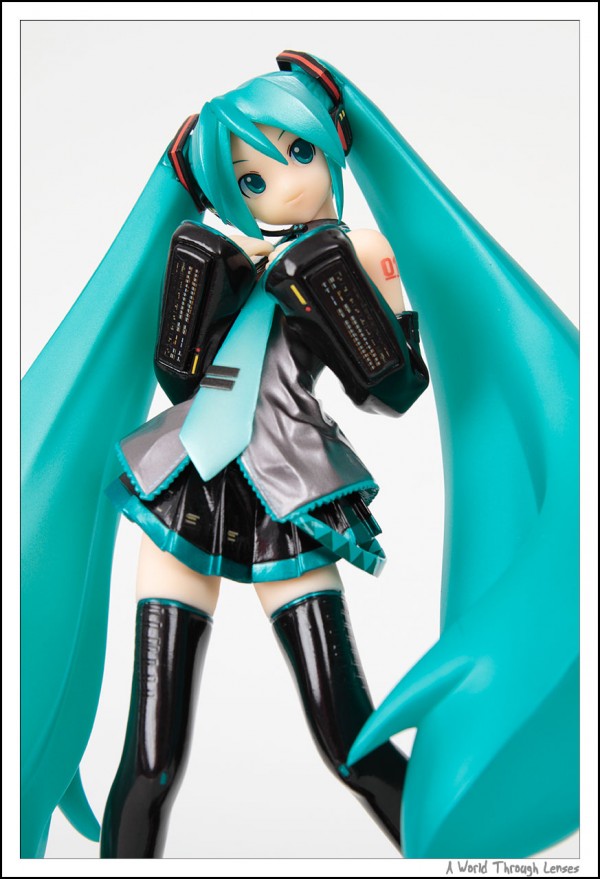 And here is the PVC and my old pre-painted resin figure side by side. The new PVC is on the left and the old pre-painted resin figure is on the right. As you can see that the old pre-painted resin figure does have a tiny big of more detail on her clothing. However, the color used by e2046 was too green and I like Volks' eyes more. The only thing I don't really like the PVC is that it is a lot more shinier than the pre-painted resin.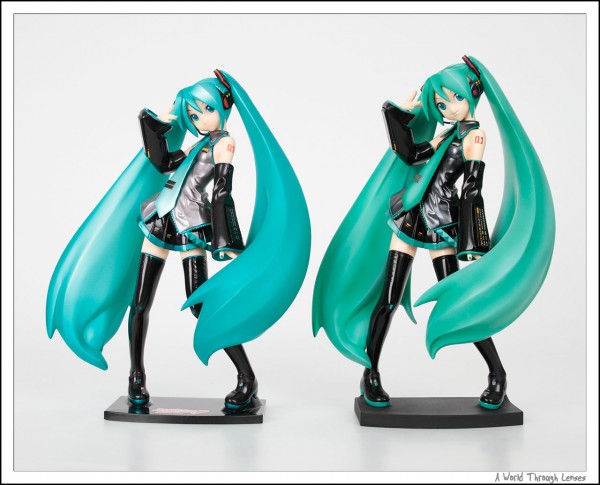 Here's an illustration of Hatsune Miku. I think this is the software box cover. As you can see the color is much better matched by Volks' paint while e2046's color is way too green. And this was not cause by lighting or camera during the photo shot. The lighting is well calibrated studio strobe and the white balance is consistent and properly measured. My camera is also pretty reasonably accurate on color reproduction. Thumbs up to Volks for producing a fine product. And I'm really happy that my great Miku figure now is even better. 😛