In cerebration of the Chinese New Year, my dolls are having a china dress duel to see who looks the best in their own china dress. The participants are Kanu Unchou, Saber, and Tohsaka Rin. Kanu's wearing her brand new official china dress set from Volks. Saber's see in her pure white long china dress before but she things that's the best china dress for her. Tohsaka Rin's been dressed in that pink dress for a while now, but she think that daily dress will make her the winner.
Here a little sneak peek for those anxious to see what the girls will be wearing. 😈
Please make sure you vote for the girl looks the best in china dress at the end of the post.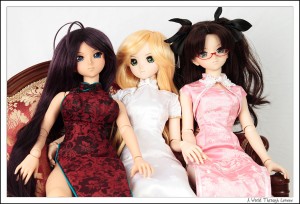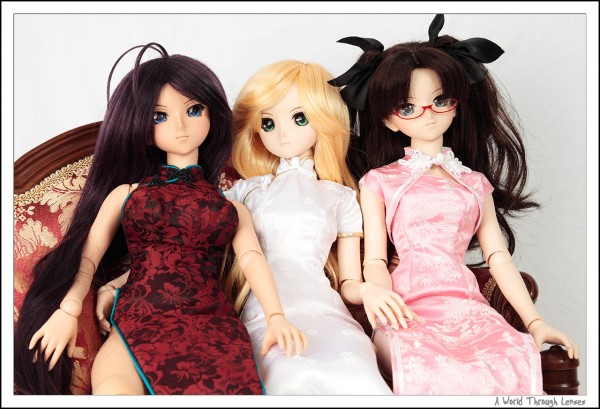 First on the stage is Kanu Unchou. Volks released an official china dress set for Dollfie Dren Kanu Unchou during Dolpa 20 held on January 2009. Volks' official web page (in Japanese) has more information on the dress set. I've got Kanu for a while now, but I've never bothered to purchase that dress set. Even though I like to complete my collections, I did not think that particular china dress set is worth the extra premium required on the auctions. Recently I spotted a good deal on the Yahoo Japan Auction for this dress set, so I ended up completing my collection for much less.The dress set include the china dress, underwear, and the pair of boots.
So here it is, Kanu in her china dress, holding her huge blade.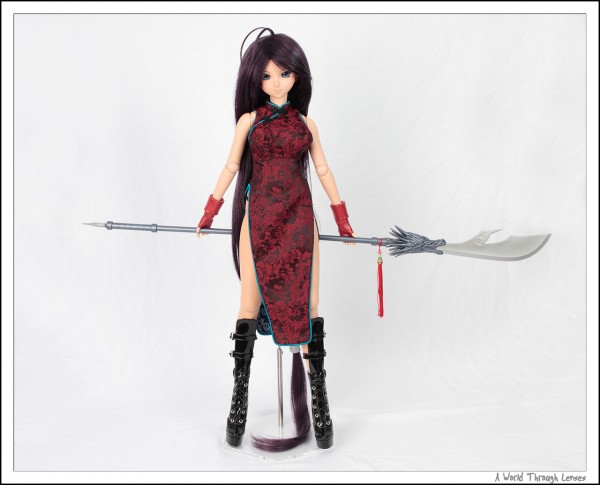 Kanu's wearing Volk's new Dollfie Dream Dynamite body stocking – normal skin. This new body stocking is very nice as it is the color of the doll's body. Making it less visible yet still protects your doll from staining. It works especially well in this case since Kanu's skin is a bit dark and old white body stocking will ruin her looks. Can you see the body stocking on her legs? At this kind of resolution I found the body stocking to be nearly invisible. Thumbs up Volks for making a great product.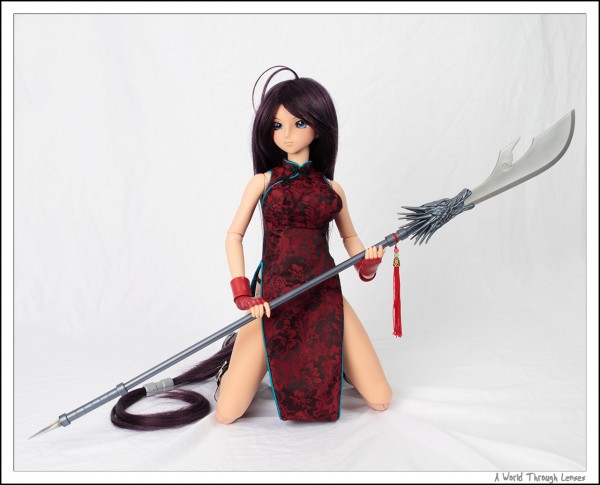 Finish up with a close-up. Kanu's looking really sexy here.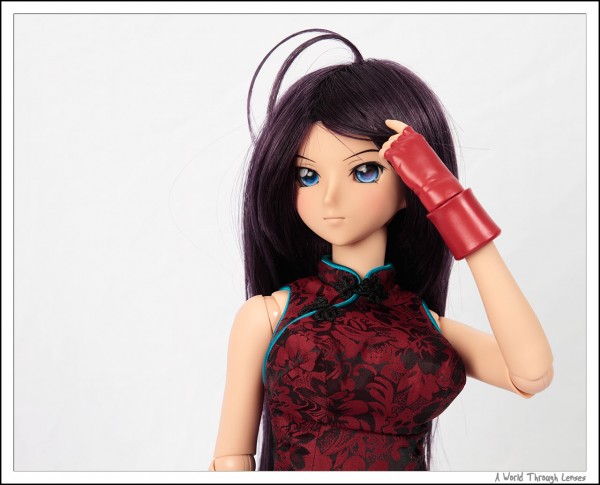 The second on the stage is Saber wearing her old pure white China Dress from AZone International (See Saber in china dresses). Saber has the old styled body stocking on. However, in this case I think the old body stock works better since it matches well with the white china dress.
Love those golder curls.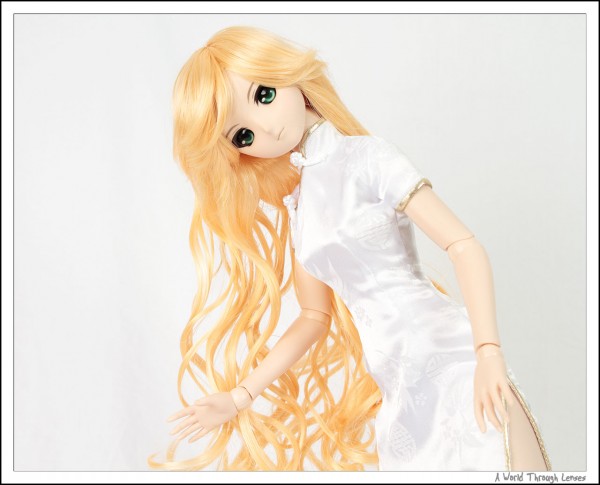 And here's a nice close-up from behind. Saber, slightly shy, with her gorgeous hair, in a pure white china dress.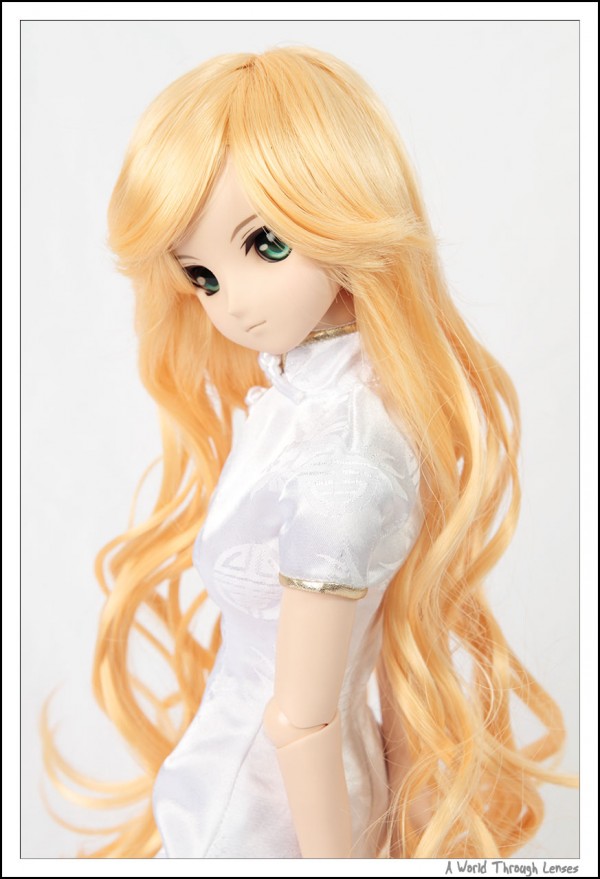 The last on the stage is Tohsaka Rin. We've seen her in that pink china dress made by 工房みみーる from the "New accessories for the new year" post. She's really found of that outfit and has been wearing that ever since. Rin also has the old styled body stocking on her. Again since the pink china dress has white edges, I think the slightly white colored body stocking works better. I did purchase enough new styled body stocking for all my girls but for now Saber and Rin's staying in the old ones.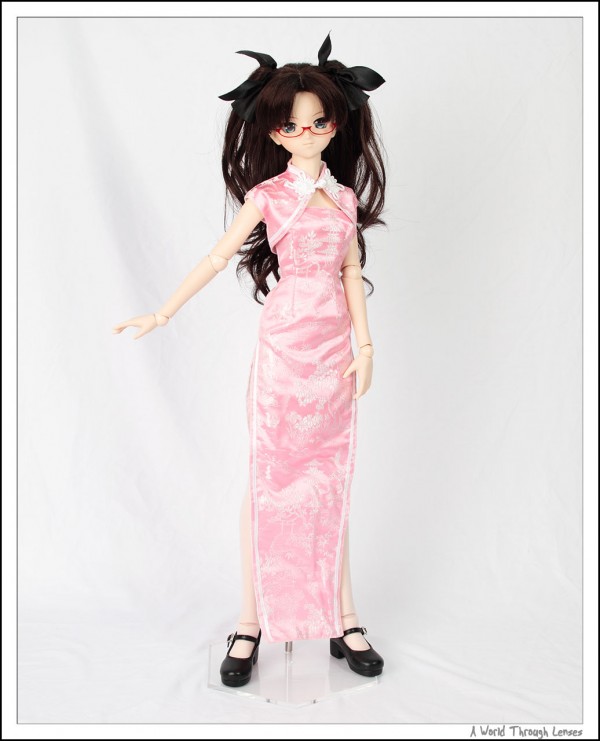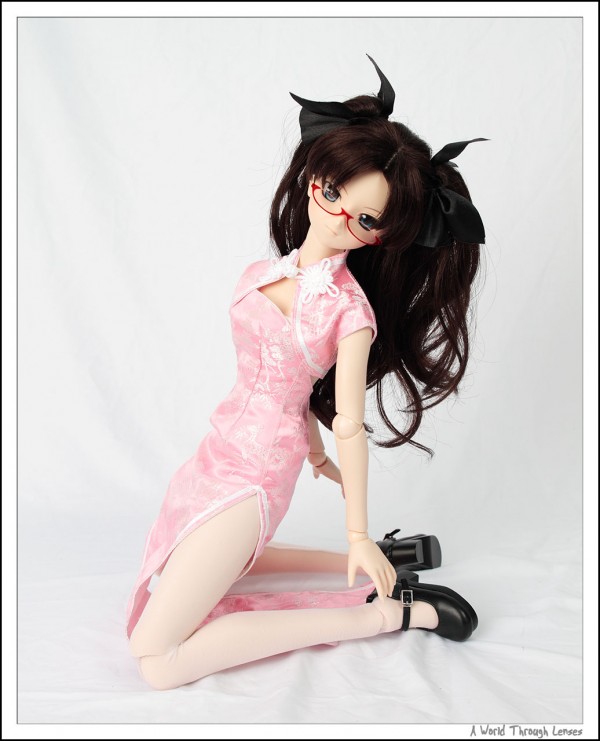 Even though it's her everyday outfit, Rin still has what it takes to capture one's hear with her double dose of megane and china dress moe.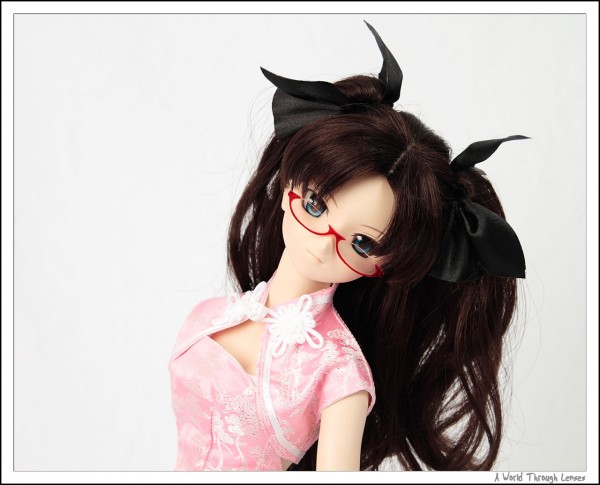 And here's the Fate pair together.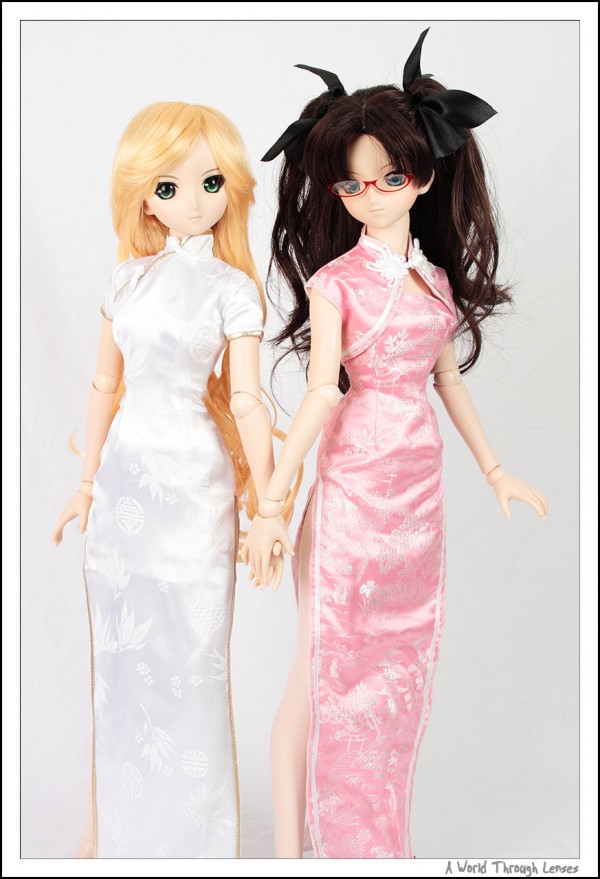 A few more shot of all three girls in china dress together.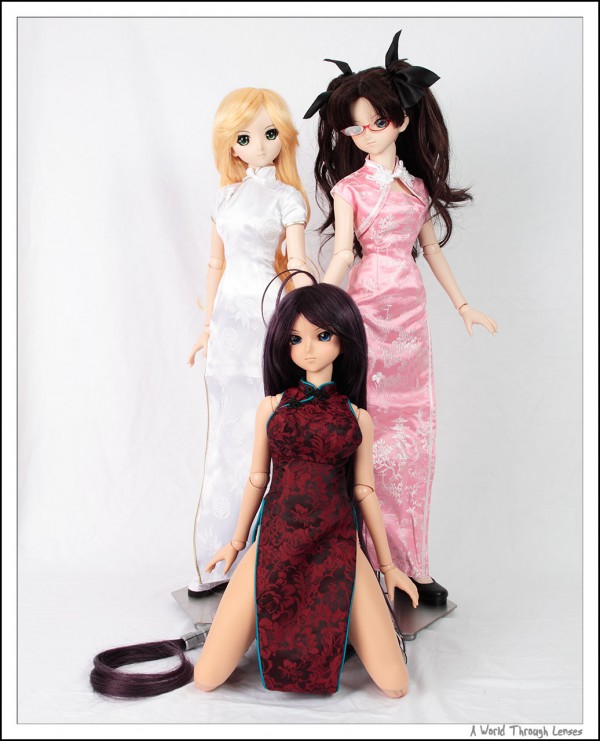 And finally a few more close-ups for the three gorgeous girls. Did you make up your mind yet as to who's the winner of the china dress duel?