Tachikoma is the spider shaped AI tank from the series Ghost In The Shell – Stand Alone Complex. I've got this for a long time now but never got chance to take photo of it. Since I've been taking photos of all my mecha toys lately, this Tachikoma finally got his debut. I had another alloy Tachikoma toy before and that was the EX Ally Tachikoma by Art Storm. Soon after Art Storm released their Tachikoma Good Smile Company announced that they will be making a even better version of Tachikoma. So naturally I placed order for that. The actual release was delayed and delayed some more, but finally it was released. So here after much delay…
Goodsmile Alloy Tachikoma by Good Smile Company (GOODSMILE合金 タチコマ). Original sculptor 山本洋平. Released in June 2008 with a MSRP of ¥17,800.
Front and back.
Comes with the rocket launcher and the lock latch.
Also comes with a mini gun attachment.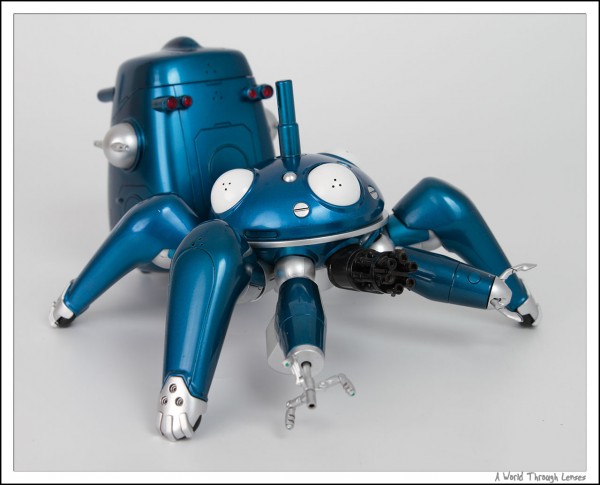 A view from the top. This is why they are called spider tanks. Also notice how the 3 eye's can be rotated to point any where. Here I have it pointed all upwards. This is a big improvement over Art Storm's version where the movement of the eyes are limited. In the Good Smile Company version, the eyes can be rotated to any position, 360° around. The leg joints are designed so that the Tachikoma can lie flat on the ground just like in the anime. This is a big improvement over Art Storm's design, where their Tachikoma can only tilt the front part to the ground.
Also comes with armour parts and 4 different set of rollers. This is when Tachikomas are fully armoured and with their wheels extended for travel on road.
Both arm can be extended or retracted. The arm also features individually articulated fingers.
The back pod actually opens up just like in the anime. And has a fully articulated Kusanagi Motoko action figure in there. She can be posed to be operating the Tachikoma inside the pod. This is amazing amount of details built into this small toy.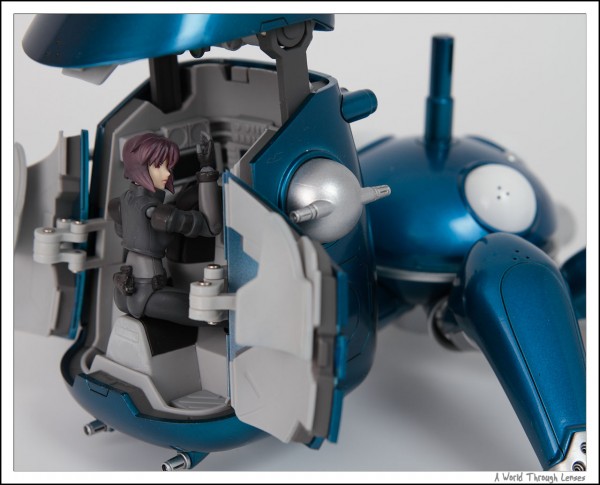 Another look at the detail of the cockpit. Superb!
The included Motoko action figure is also an incredible piece of work. Despite being so small, it is fully articulated at every possible joint. And it comes with three different right hands. One normal (as see on top already), one holding a pistol and one holding the machine gun.
Showing off Motoko a bit.
And a few more Motoko action with the Tachikoma
Here's a super close-up of the Motoko action figure itself.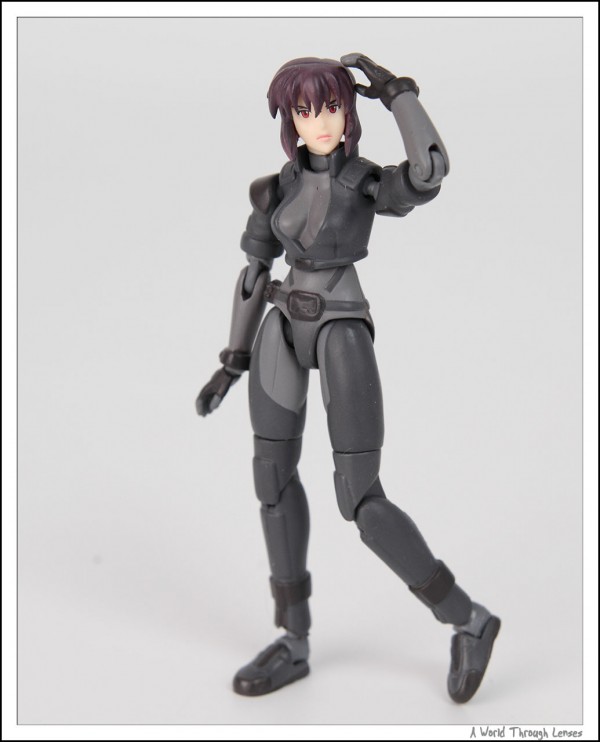 In keeping with my current caramelldansen theme, here's Tachikoma and Motoko dancing to the tune. Actually I actually really can see Tachikoma doing this. Although I'm not sure if Motoko will join in. 😈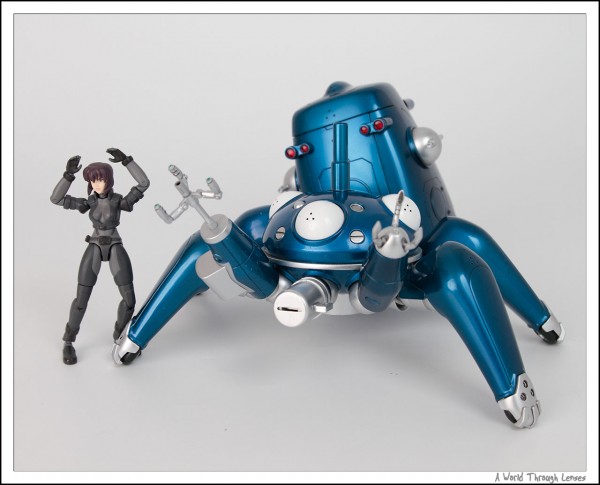 And there's a 2D illustration of both Tachikoma and Motoko.