Well for my camera gear anyway. My old trusted DSLR, the Canon EOS 10D is feeling a bit outdated. I've had this camera for over 6 years. While it still takes excellent pictures, I am however itching to explore the improvements and features of the new cameras out there. There have been many new generations of cameras in the same line since the release of 10D. Canon has released 20D, 30D, 40D and 50D over the past 6 years. Now they are all great cameras, however the improvement didn't seem drastic and I always felt that a good photographer is more in the skills than in the gears. However after seeing what the new Canon EOS 7D brings, I was overwhelmed by the features that 7D is bringing and so I finally decided that it is time to revamp my camera gear.
When I say a revamp of the camera gear I really meant a big revamp not just the camera but other things that go with the camera. 😀 I decided that since I am revamping my gears, might as well revamp it to my satisfaction on everything. This way these gears will last me many good long years before I would want to take another upgrade. So what did I want to be upgraded?
A new carbon fiber monopod.
A new carbon fiber tripod.
A new ball head for my new tripod.
Upgrade the current Sigma 24-70 F2.8 EX to the new version with the new hyper-sonic motor (HSM).
Upgrade the Canon EOS 10D to Canon EOS 7D.
Upgrade the compact flash card to two Transcend 600x 8G UDMA-6 cards.
A smaller backpack for my gears for those day long photo trips.
So here's the result of the upgrade. On the left my old Canon EOS 10D with battery grip. Mounted is my old Sigma 24-70 F2.8 EX. The camera is mounted on a Manfrotto 055Pro tripod with a Gitzo G1276M ball head 2. On the right it's my new Canon EOS 7D. Mounted is my new Sigma 24-70 F2.8 EX HSM. The camera is mounted on a Gitzo GT1541 carbon fiber tripod with a Markins Q-Ball Q3 ball head. In the middle are my usual lenses that I didn't need to upgrade. They are my ultra-wide zoom Sigma 12-24 F4.5-F5.6 (left), my telephoto zoom Sigma 100-300 F4 EX (middle), my macro prime Canon 100 F2.8 USM (right), and my extender Sigma 1.4x (front).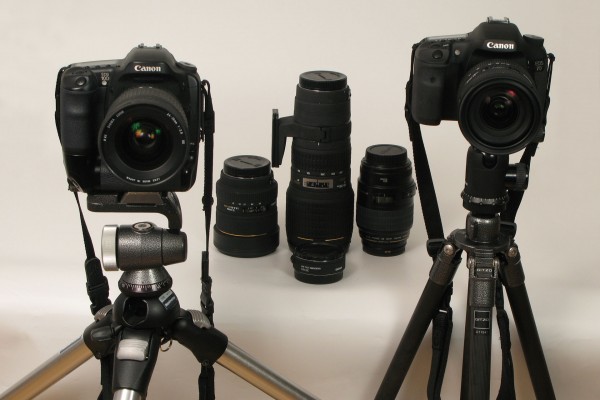 A few things that I also bought as part of the revamp but are not in the photo. The battery grip for 7D is still in transit to me, hopefully it will arrive next week. I bought a Lowepro Flipside 300 backpack which is small and compact but can carry all my gears that I need for the day with me. I've also bought some studio lighting equipment for my miniature studio.
Continue reading 'Out with the old and in with the new…' »