I wasn't really a diecast model car collector, but ever since I bought those Porsche Boxster models, I started to buy more 1:18 scale model cars. So here's some of the new additions.
First let me start with something old. This is a 1936 Mercedes Benz 500K Roadster diecast replica made by Bburago. I like these old cars because I like the smooth curved designs these car has. These days most of the cars are very angular and very mechanical, while in the old days cards are much more organic with smooth curves.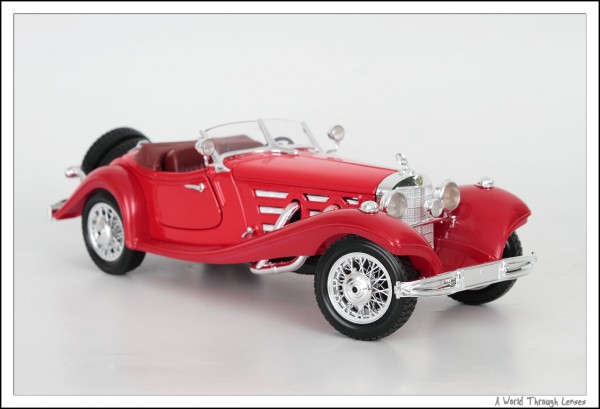 I find that modern cars, partly because of all the engineering (wind tunnel and whatnot) and partly because of the need to reduce cost to produce cars, rarely uses any really rounded or curved components. And I really love these curved components like these arched wheel fenders that's found in these Mercedes from the 30s. I think they make the car look sexy. And I love these large rounded head lamps, I find too many new cars like those narrow head lamps. I on the other hand love big, rounded head lamps.
Okay so that's the something old part. Now for something terrible part. I have played with other Bburago model cars before and I always thought while they are not great quality they are okay for model cars. What I didn't realize is that Bburago has two 1:18 scale collections. The ones I have seen before are from their "Diamond Collection". While this Mercedes 500K is from their "Gold Collection". And it seems these Gold Collection cars are simply much worst than those in the Diamond Collection.
For starter, despite being labeled as die-cast model cars, this one actually uses very little metal. Most of the car, including the fender, are made of plastics. Now I don't have anything against plastics in model cars, just that these plastic parts are badly manufactured. You can see how rough the plastic parts are, some places you can see injection molding tabs, and moving parts are not well fitted. The paint job on them is horrible too, you can see brush strokes on the chrome parts.
Well at least I was able to lift the engine bay cover and swing the door open without destroying the model.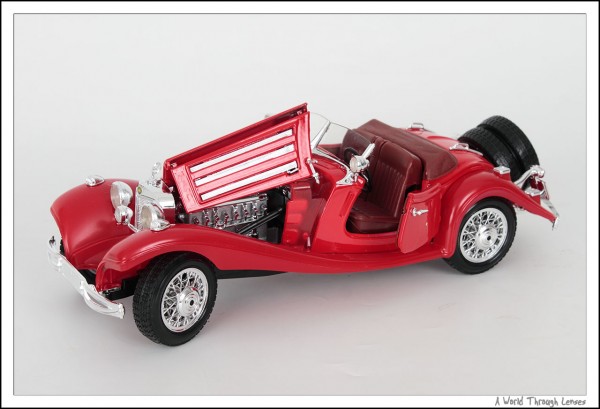 Now for the backseats which is normally hidden behind a door behind the front seats and can be accesses by flipping that door open. The parts for this area of this model doesn't fit well at all. It is extremely hard to open the door requiring me to nearly pry it open with something. And after I opened it, it won't close property without using a lot of force to stuff it back into the open that seems to be not sized correctly or aligned correctly. I opened the rear seat doors just this once just to take this photo below.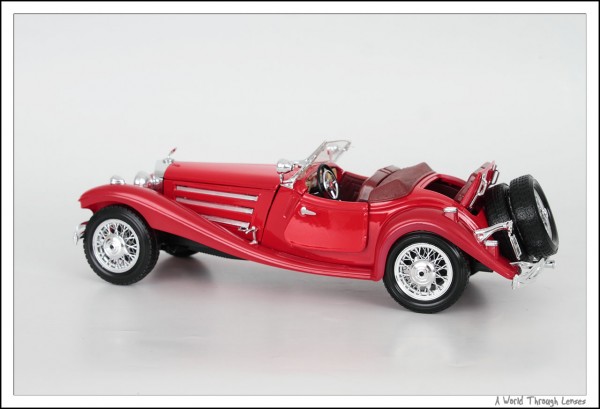 More horrible parts, the windshield's edge is not sanded and so you can see the rough cuts on the edge. And even from this far, you can tell how bad the instrument panel looks. Not realistic at all. Now I do love this car, Mercedes Benz 500K Roadster, but Bburago seriously failed to deliver it to my fantasy garage.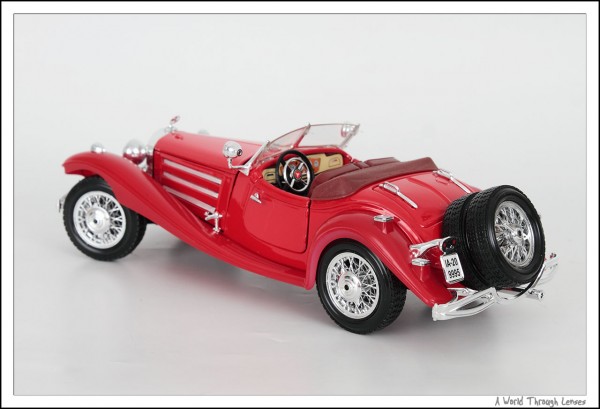 Now for something new – this car below is the Koenigsegg CCX. This one is made by AUTOart. I admires Koenigsegg as a company because this little Swedish automotive company started in 1994; with no prior racing pedigree; took a single man – Christian von Koenigsegg's dream; with the passion of their small team to design and make one of the best supercars in the world; and took at little as 8 years to released their first supercar – Koenigsegg CC8S in 2002. Now that is one amazing feat that I don't see from other supercar makers.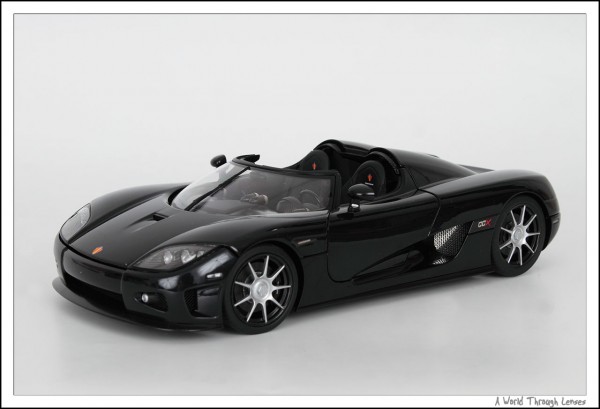 The AUTOart's box really couldn't have been more plain. There's no image on the box, just the Koenigsegg logo and the car model name. Inside the box, it includes a little booklet on Koenigsegg. This Koenigsegg model CCX or "Competition Coupé X" was released in 2006 just 4 years after Koenigsegg's first car CC8S was released. Unlike many other supercar / hypercar maker, that will source engine from one manufacturer and suspension components from another manufacturer, Koenigsegg designed just about all the parts of their car, engine included.
It also includes this numbered certificate of authenticity.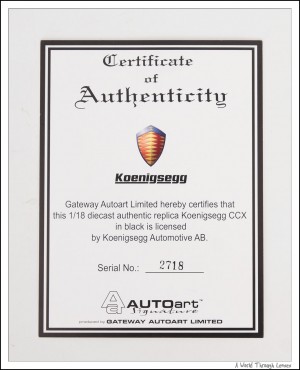 The plain box actually a blessing in disguise. Because what' inside is truly a piece of art. The heavy weight of the car indicated how much the car is made of die-cast metal rather than plastics. The parts are all well fitted. Opening and closing something takes nearly no effort. The paint job is superb. It even included a microfiber cloth to clean off those finger prints that you might left on the smooth paint surface. Now this is something wonderful.
The front of the car opens just like the real car with metal struts "lifting" the hood. And just like in the real car, the car's targa roof can be stored right in a compartment in the front trunk.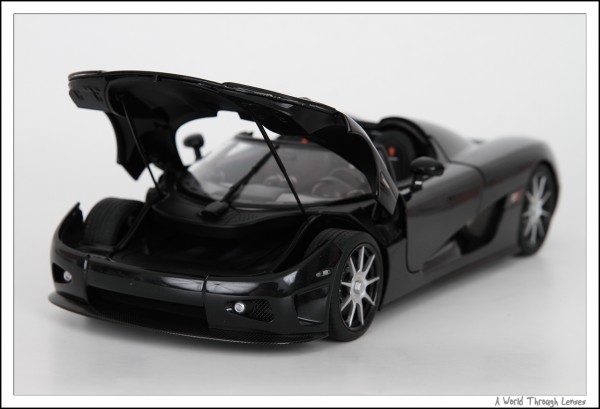 Here's the CCX with its targa top installed. And yes unlike the Bburago car, the parts here all fitted well.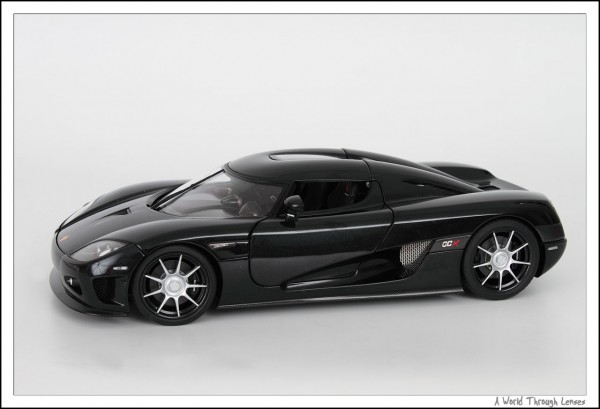 Here's a view from the rear of the CCX.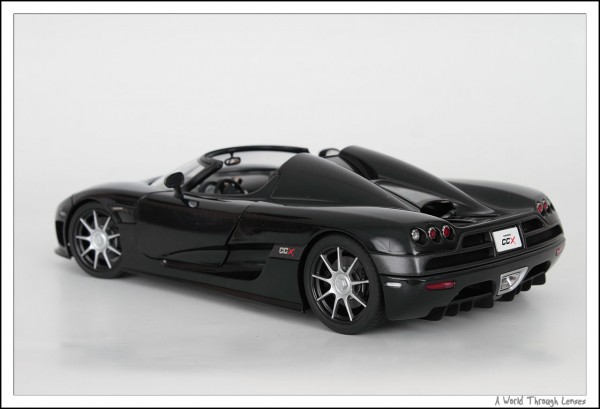 The engine bay cover also "lifts" open with metal struts showing you a very detailed engine bay.
If you look at the full size picture, you can see even the carbon fiber weaves is replicated.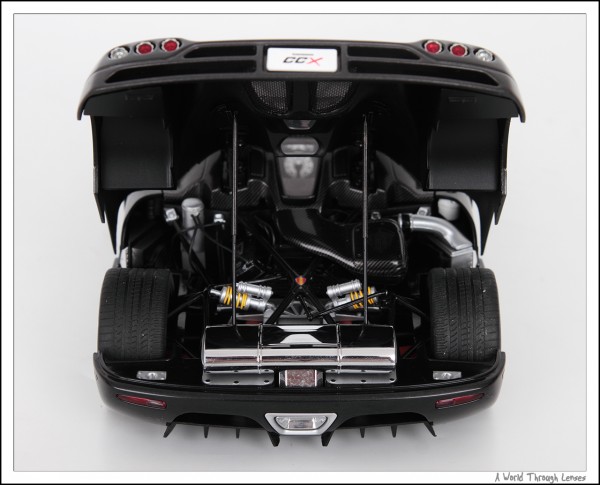 And of course the Koenigsegg's signature dihedral synchro-helix actuation doors that rotates forward and moves outwards is also replicated accurately.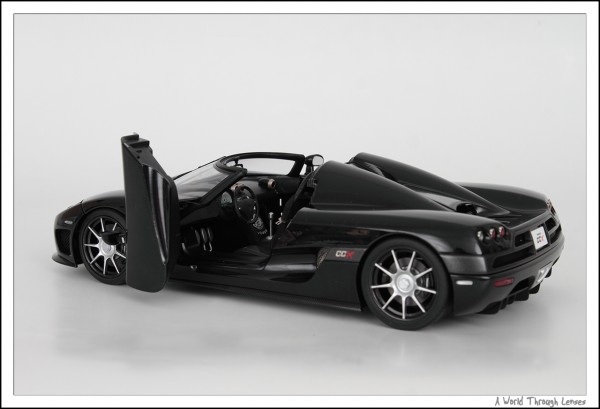 And this cockpit is very well made. Weaves of carbon fiber, gauge clusters and the center console. It even has the seat belt nicely reproduced.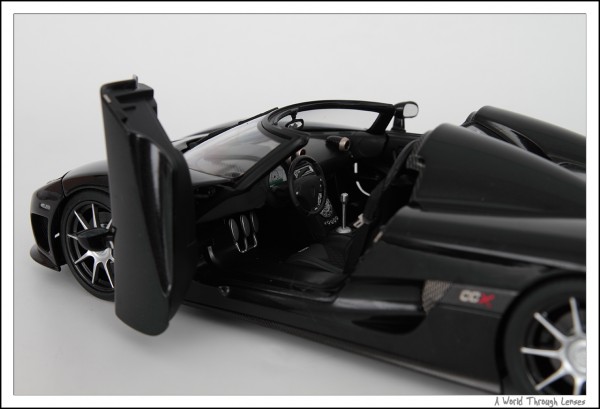 Interestingly, this car being an open top model, can fit my nendoroids in there just fine. So the Kuroshitsuji Sebastian Michaelis and his master Ciel Phantomhive decided to drop in for a test drive. Unfortunately Sebastian can't seem to fit his afternoon tea set in the trunk and that really made Ciel angry…