This is what it looks like before. There actually use to be even more wires, but some were cleared to the side so we can start work and Roger's home phone which use to be on the left side of the electric panel were also removed. The 28″ Leviton SMC (Structured Media Center) was already mounted to the right of the electric box.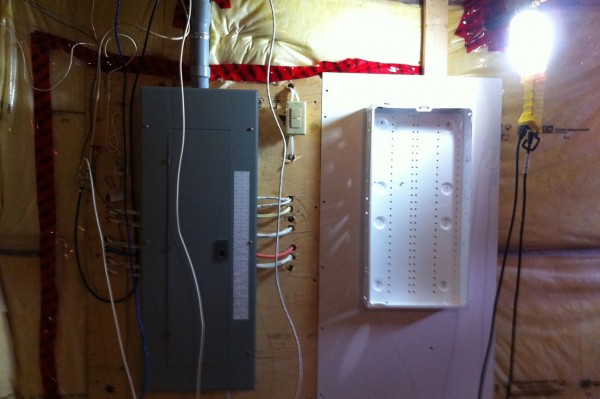 There are 7 Category 6 network cable that were run from 6 different rooms to the basement. Two rooms are on the 1st floor and 4 rooms are on the second floor. Then category 6 network cables are all hung up on the basement ceiling using loop and hook velcro ties stapled to the beams.
Then we had telephone and Roger's coax cable input line entering the SMC on the left. Ethernet cable and coax output on the right. All the components are mounted inside the SMC and connected. All telephone lines and all Ethernet lines are labeled at the wall plate and on the line at the termination point.
And this is what it looks liek after all is done.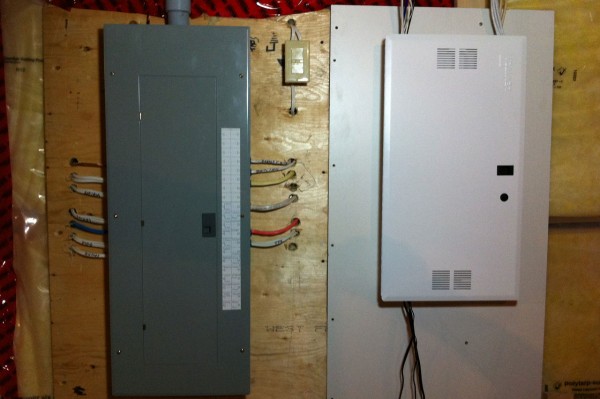 Open the SMC door and you see the actual components inside.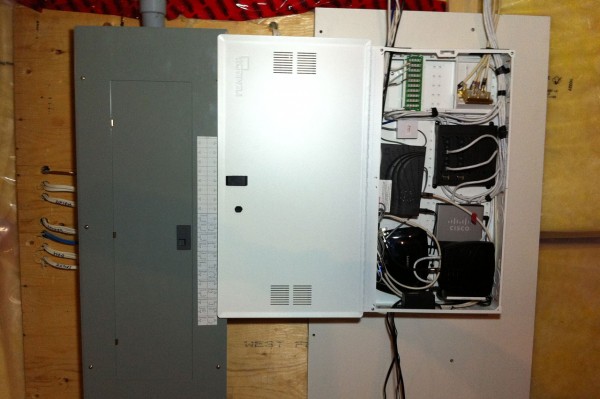 Here's a bit close up look of the components inside the Structured Media Center.
The home telephone is provided by Roger's Home Phone service. The box and the demarcation point used to be mounted just to the left of the electric panel is now relocated to the left side of the SMC. Right on top of the demarcation point, there's a 1×9 phone distribution board that utilizing the standard 110 punch down connections. All telephone distribution lines exists the cabinets on the left.
Roger's Cable's coax input cable enters the cabinet from the left. There are two of them, one for home phone service and the other is on a 1×2 splitter that services both the cable modem for internet connection as well as digital cable terminal. The video splitter on located on the top right of the cabinet with 3 coax lines exiting on the right side of the cabinet.
The Cat 6 network lines enters the cabinet in a 6 wire bundle on the right side. They are connected to the Leviton 12 port Cat6 patch panel. An 8-port Cisco gigabit switch is mounted under the patch panel. The Roger's cable model is standing on Leviton's SMC Shelf. And A Linksys router is mounted on the bottom left. These completes the data portion of the structured wiring.