Kaiyodo (海洋堂) made a lot of action figures in the Revoltech lines. At the end of 2007, one of those series being produced as a line of Revoltech toys is Yotsuba&!. There was a few character action figures in that series as well as Danboard (or in Japanese it's Danbo ( ダンボー)). Danboard is a cardboard box robot costume wore by Hayasaka Miura in the Yotsuba&! manga. When the Revoltech Danboard action figure was released, I thought it looked a bit plain. Then comes the amazon.co.jp box version which has amazon.co.jp prints on all the cardboard boxes and that made Danboard looked like made out of Amazon Japan's shipping boxes. That was really interesting since I do buy things from Amazon and from time to time have Amazon's boxes lying around the house. But since Amazon Japan does not ship toys internationally and I didn't want to pay deputy service's high purchase service fees, I didn't get my hand on it back then. One day while casually browsing through Amazon Japan, I saw the amazon.co.jp version of Danboard and Danboard Mini is marked as pre-order again. Apparently Danboard and Danboard Mini is being re-released. So now with Tenso package forwarding service at my disposal with their much cheaper fees, I placed order on Amazon Japan for the amazon.co.jp version of the Danboard and Danboard Mini. And so now, three and half years later, I finally have my very own Danboard and Danboard Mini.
Kaiyodo Revoltech Yotsuba&! Danboard amazon.co.jp Box Version. Original sculptor 榎木ともひで. Re-released on April 2011 with a price of ¥3,980.
Here's the box for Danboard. Since Danboard is a cardboard box robot, its container also looked kind of like a cardboard box.
Here's Danboard out of the box. This is the amazon.co.jp box version, so you will find amazon.co.jp print all over the place. And there are other markings on the boxes making all the cardboard boxes looking like amazon.co.jp shipping containers.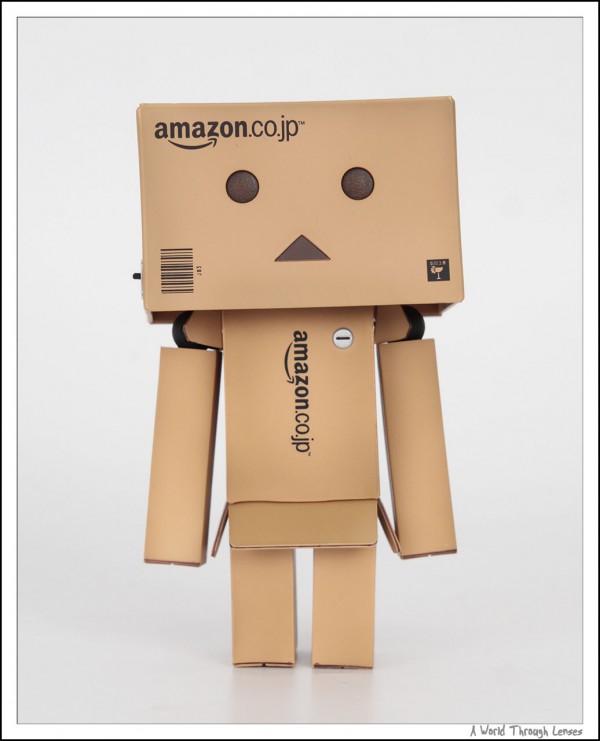 Here's the back, again full of amazon.co.jp markings. There's not a lot of joints. One for the neck, two each for arm and leg. And the cut outs around the waist can be flipped up a bit. That's about it. But then this is a cardboard box robot costum, so that's how it should be.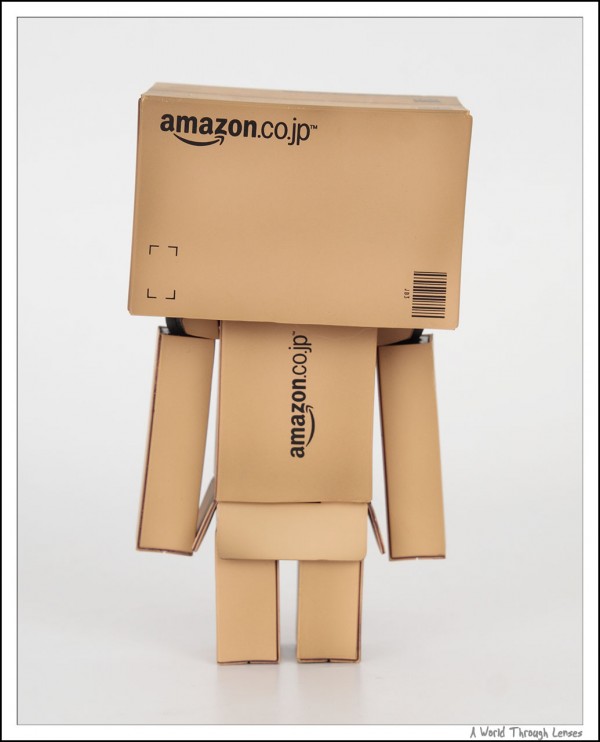 Posing wise, there are not a lot of joints to move and much of it is very restrictive. The head for example only moves a little bit upwards or downwards. And the joints are very stiff making them not so easy to move around. But being the cardboard box robot Danboard is, there's nothing you can really complain about.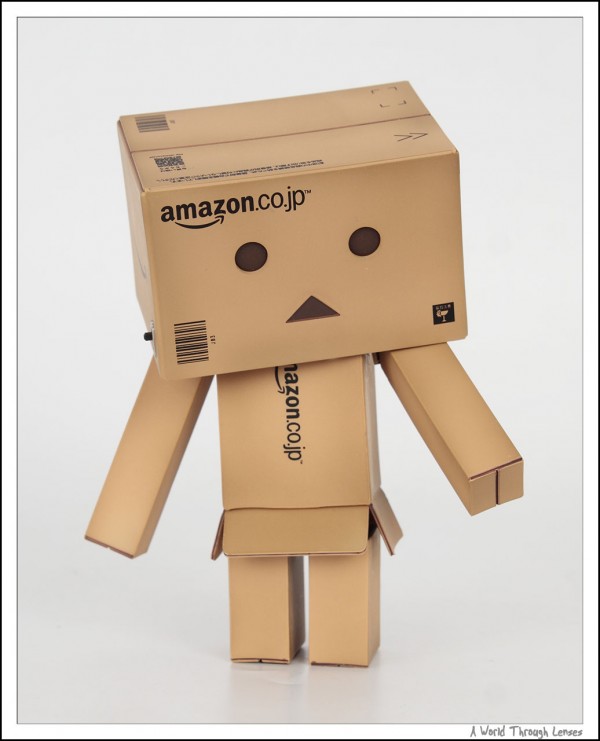 There is a small switch on the right size of the head. The switch turns the Danboard's eye on or off just like in the mange. However, unlike the Fireball Drossel, I don't really like Danboard's lit up eyes.
Of course the the real face behind the Danboard is Hayasaka Miura. The Danboard comes with a swappable head to show who's inside the card board boxes. But I am only really interested in the Danboard itself, so I'll be just like Yotsuba and think Danboard is a real robot.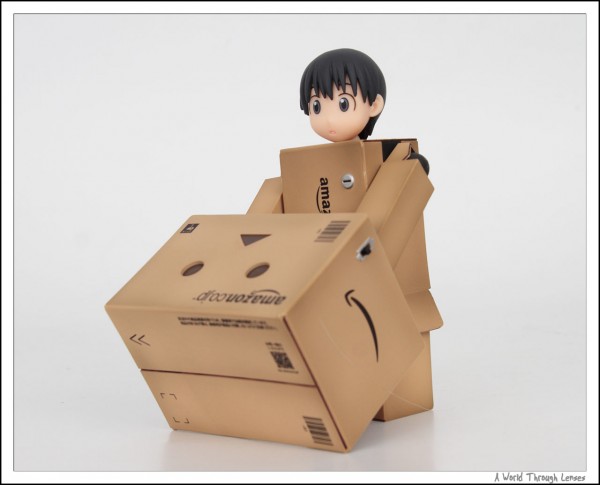 Danboard also comes with a base with Yotsuba&! printed on it. You can use the base to post Danboard in off balance poses like this one.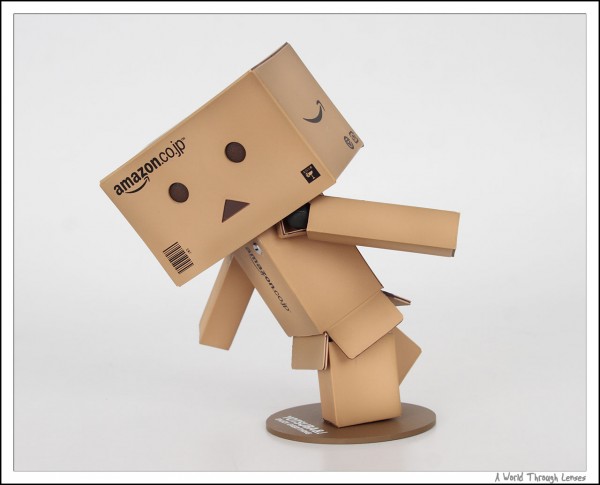 Danboard Mini comes in a much smaller package. The amazon.co.jp version comes in a package that looked almost like a small amazon.co.jp shipping box like those used for books and DVDs.
Kaiyodo Revoltech Yotsuba&! Danboard Mini amazon.co.jp box version. Original sculptor 榎木ともひで. Re-released on April 2011 with a price of ¥1,699.
Danboard Mini look just like the Danboard, the design, the print, just about everything looks the same. The only visible difference is the size.
Danboard Mini's joints feels not as stiff to manipulate as Danboard's and seems to post a bit easier than Danboard. But since Danboard and Danboard Mini obviously does not have elbow or knee joints, what pose Danboards can strike is still very limited.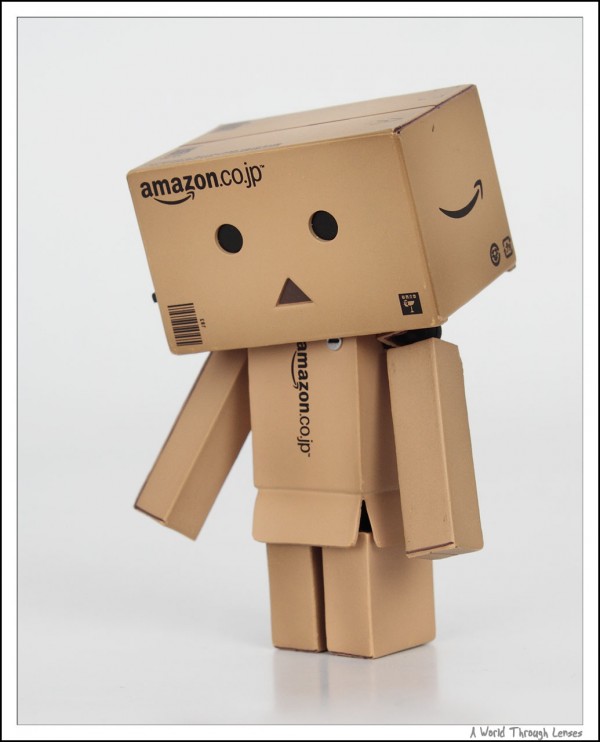 It also has the same light switch to turn his eyes on or off on the right side of the head.
Just like Danboard, it also comes with a base, so that the Danboard Mini can strike somewhat unbalanced poses. Unlike the Danboard, instead of Yotsuba&!, the base has amazon.co.jp printed on it.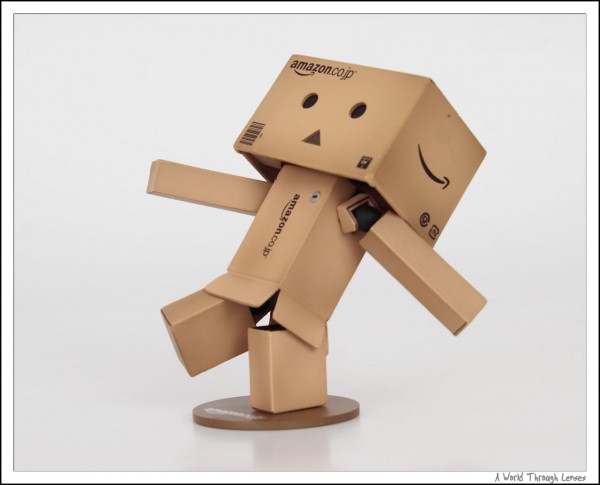 Here's Danboard and Danboard Mini standing side by side for a size comparison. Looks like father and son, don't you think?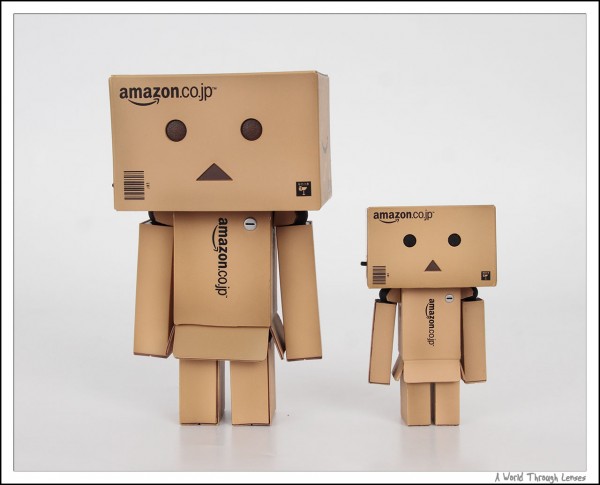 Daddy daddy, let's play over there…
But didn't we play for a long time today already?
But, I still want to play some more…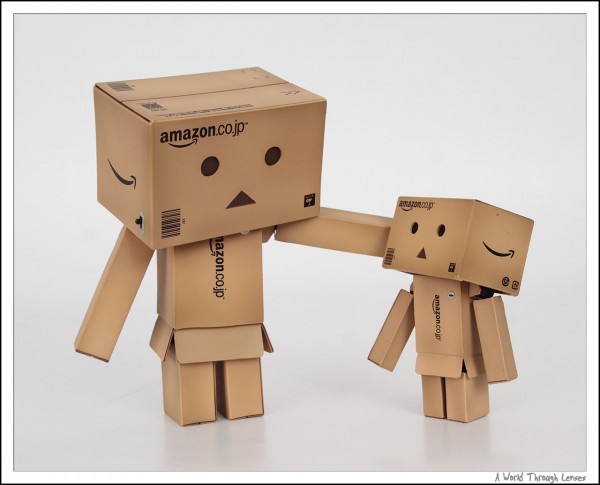 So being the kind of dad who really spoils his son, they went to play some more…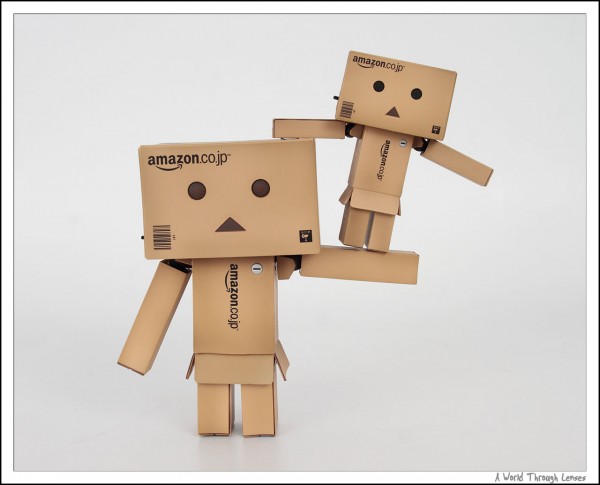 And some more…
Then the little Danboard-chan is tired, daddy has to carry him home…
That was so much fun yesterday, let's do it again…
Eh… maybe much later…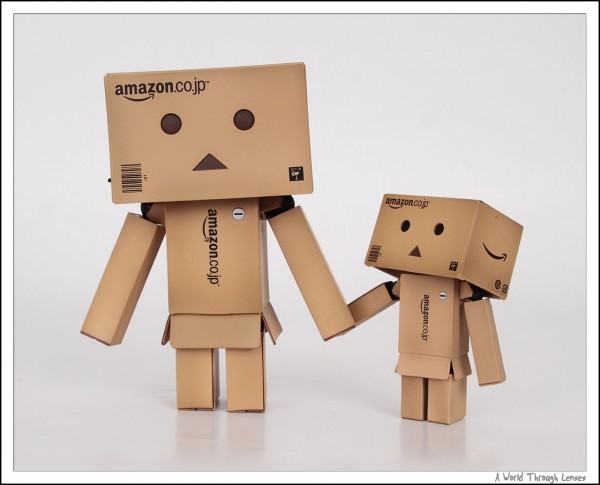 Later… it was a nice warm day. The Sakura trees are blooming here. The Danboard family decided to go hanami in the park.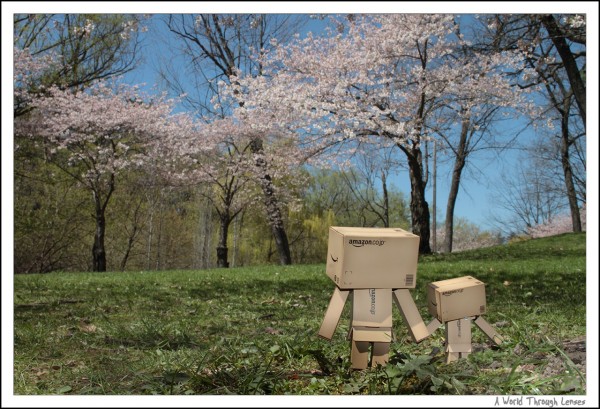 It's so nice lying down under a tree and watch the flowers.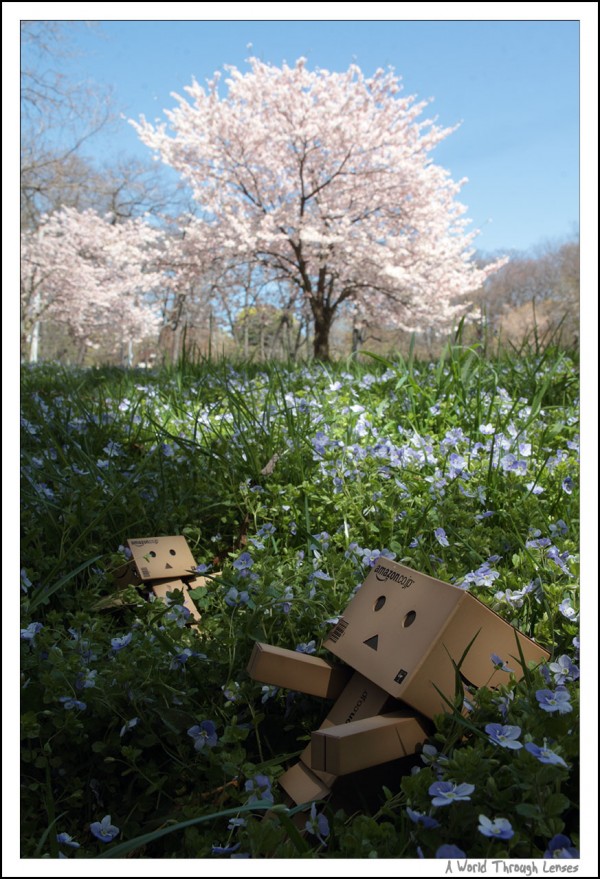 Danboard-chan even gets to climb a few trees.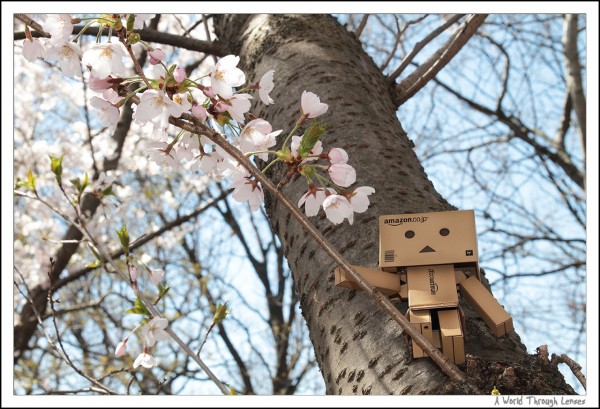 And here's the conclusion of another fun day.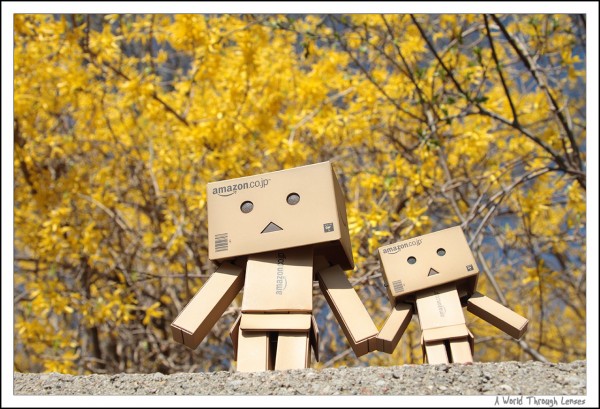 P.S. After I got home, I realized that I got the Danboard body reversed so that the back side is actually facing the front. Well we'll just have to leave these hanami pictures as is. Serves as a reminder to me that I should pay more attention next time which side is the front and which side is the back.
Here's a page from the manga where Yotsuba meets Danboard (Danbo).