So here's a figure that has be sitting in the box for a while waiting for me to find the time to take photo of her. Ever since I purchased Alter's Fate Testarossa and Yagami Hayate figure. I always wanted a Nanoha figure to go with the two. And of course it must be a Nanoha figure of a equivalent size so that it can be displayed beside Fate and Hayate properly. And of course Alter delivered in the form of this Alter Lyrical Nanoha The Movie 1st Nanoha Takamachi Stand By Ready.
Mahou Shoujo Lyrical Nanoha The Movie 1st Takamachi Nanoha -Stand By Ready- 1/7 PVC by Alter (「魔法少女リリカルなのは The Moview 1st」 高町なのは -Stand By Ready-). Original sculptor 爪塚 ヒロユキ. Released on March 2010 with an MSRP of ¥9,800. Notice this is the same sculptor that sculpted Alter's Fate Testarossa and Yagami Hayate.
Here's the box shot.
Here's what's inside the box. Her base and weapons are all in a separate package packed behind the figure. So as it turns out, even though Nanoha is not any smaller than Hayate or Fate, her box is smaller.
She stands on metal rods inserted into the plastic base. This should prevent any kind of leaning over time.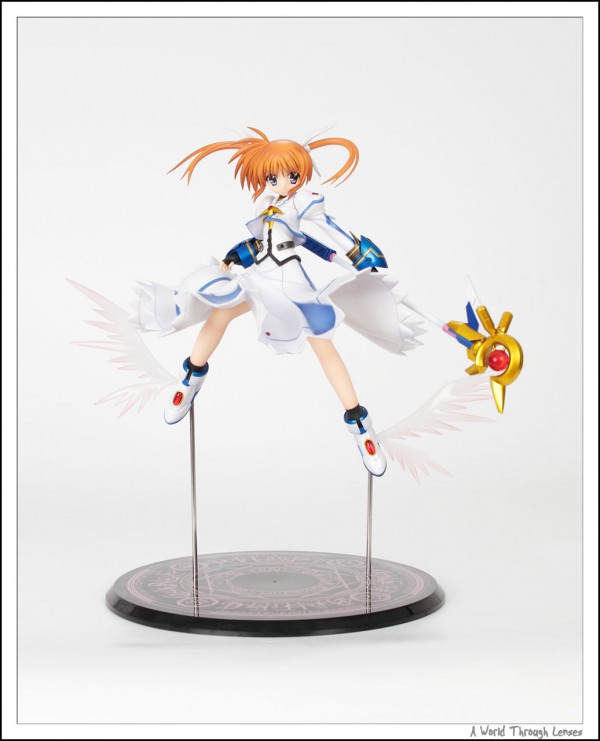 Nanoha comes with two send of hand and two set of weapons. Here she's holding "Raising Heart" in device mode. You can see how the meta rod stand works from the behind shot. It fit nicely into the holes in the leg.
Here's a few close-ups.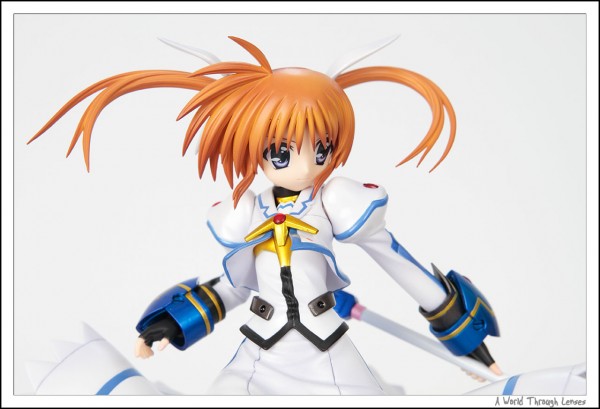 Close-up of Raising Heart.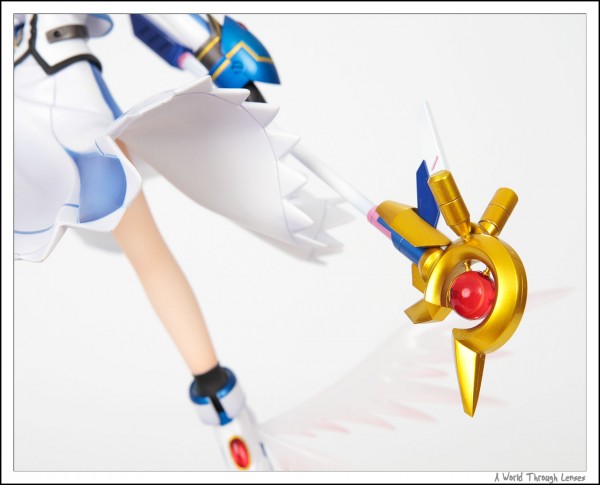 A shot of the nicely done translucent wing of the Flier Fin. I like these wings a lot, it's much better than the solid pink type that are on other Nanoha figures.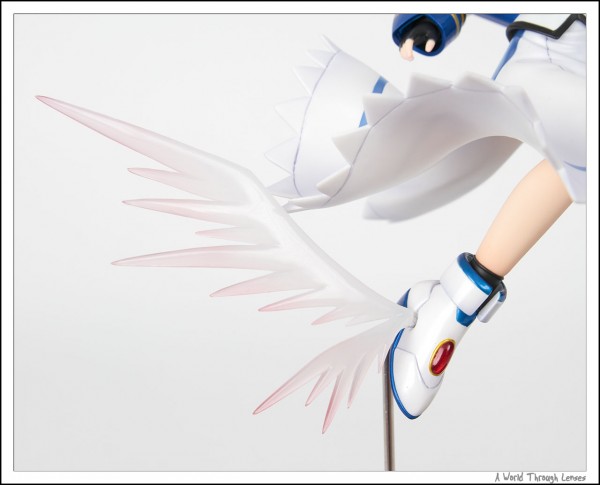 A nice pose. This will display nicely right alone side of Fate.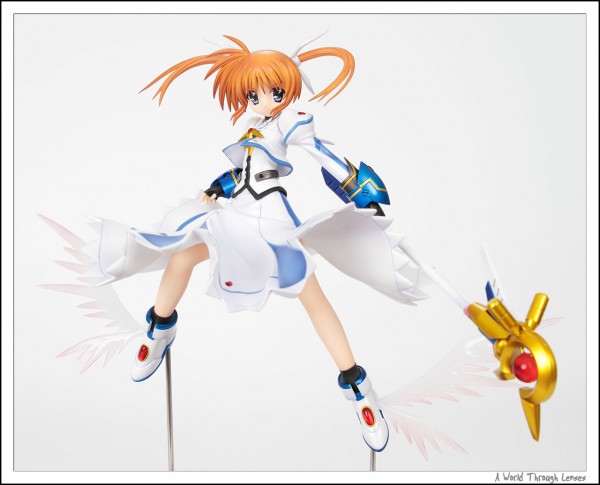 Switching her arms over to hold "Raising Heart" Cannon Mode. There are one arm and two hands that came with the figure specifically for this pose. The left hand actually holds the trigger right in the hand.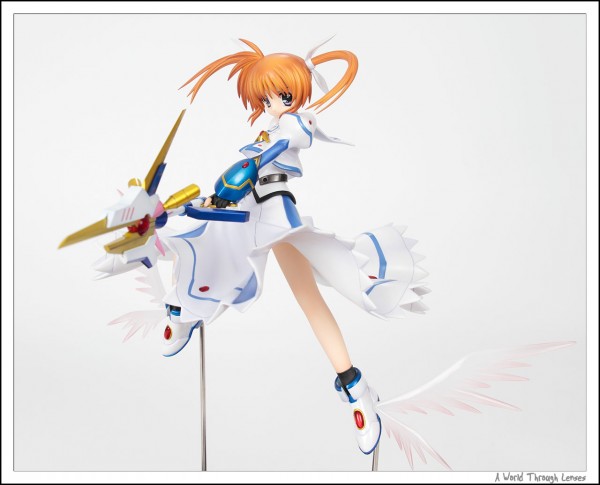 A shot from the side where you can see the weapon more clearly.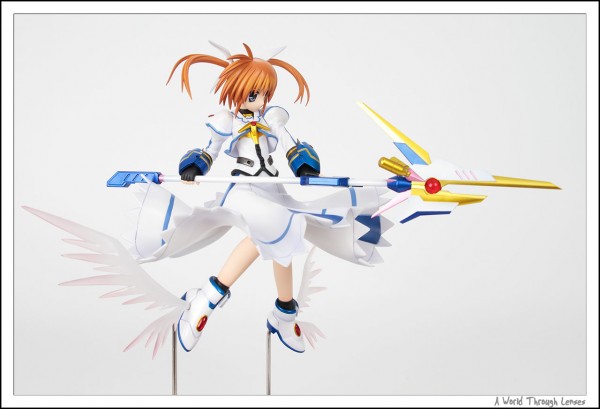 It also came with a nice weapon stand. So while you display your figure with one weapon. The other weapon can be put onto this weapons stand and show nicely beside the figure. I like the device mode raising heart more, so I am having cannon mode raising heart on the display stand right now.
Here's a 2D illustration of Takamachi Nanoha from Mahou Shoujo Lyrical Nanoha The Movie 1st.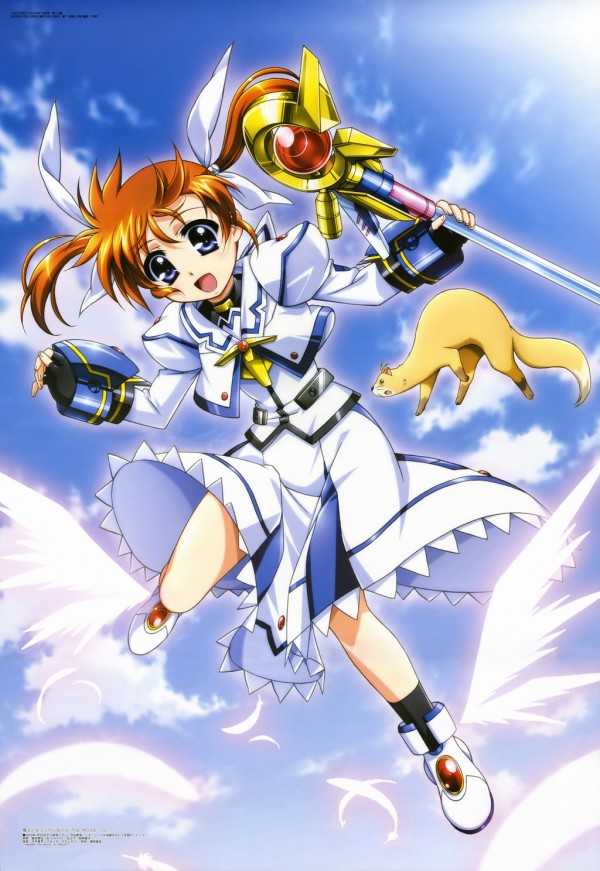 P.S. On a sad note, my photo shot session ended in tragedy. The peg those wing pieces are using to stick into her boots are too fragile. One careless knock on the figure and I broke Nanoha's right Flier Fin. Now the wing is permanently glued to her boots. So a warning those of you who purchased the figure and display the figure, be very very careful with those wing pieces.