This is Itazura Bank (いたずらBANK) made by Shine. Itazura (いたずら or 悪戯 in Japanese) simply means mischief or prank, but I am going to call this Naughty Kitty Coin Bank in English. It's been out for a while now, I think I first seen it just as the year 2010 arrives. Now as much as it looked interesting back then, I never got my hand on one. A few weeks ago Hobby Link Japan listed  for a price of 1,530 JPY, which I think is pretty cheap, so I bought it. There are four different models of Naughty Kitty Coin Bank and there are four models of Naughty Puppy Coin Bank. Each model has a different box print and a different cat/dog. The item is since sold out from Hobby Link Japan. However, another trusted shop J-List still has it in stock for a slightly higher price of $28 USD. J-List ships some item from USA while some from Japan so those of you in North America might pay slightly cheaper shipping than directly from Japan.
Well here we go. The coin bank came in a transparent box which allow you to see pretty much the entire coin bank clearly.
The box I took photo of is a the the Orange Tabby model. But I then decided that the one I like the best is this Calico model. Here's what it looks like out of the box.
Then it is time to turn it over, open the battery cover and insert two AA batteries (not included). Now the coin bank is ready for action. So normally it sits there like a normal cardboard box. In this case, it's a box full of mandarin orange from southern country (南国みかん).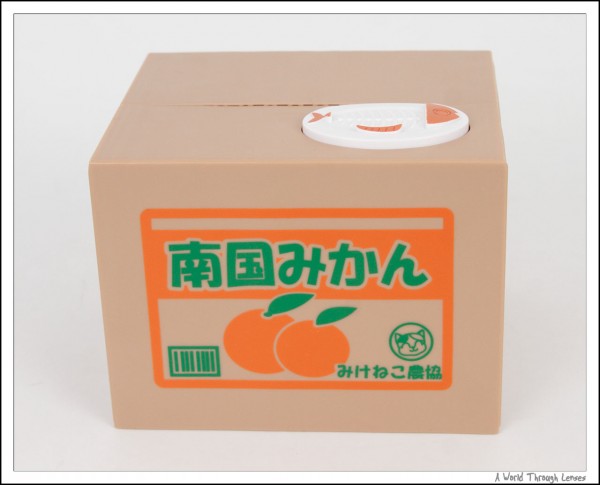 If we look around the box, they printed the box looking exactly like one of those orange shipping boxes. The only thing different that you can spot here is the plat on top of the box with fish bones in it, and the little cat paw shaped opening on the left side of the box see in the photo to the right below. That's the opening for the speaker. More on that later.
So if you put a coin on that plate with fish bone on it or just push it, off a kitten pops her head out of the box.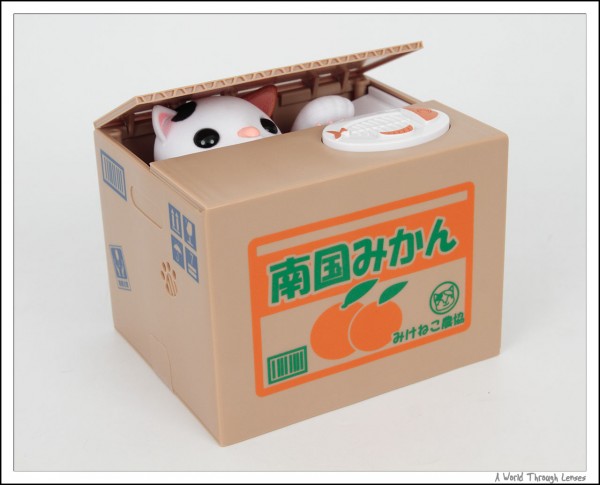 And before you know it, she grabs the coin and off the coin goes into the box.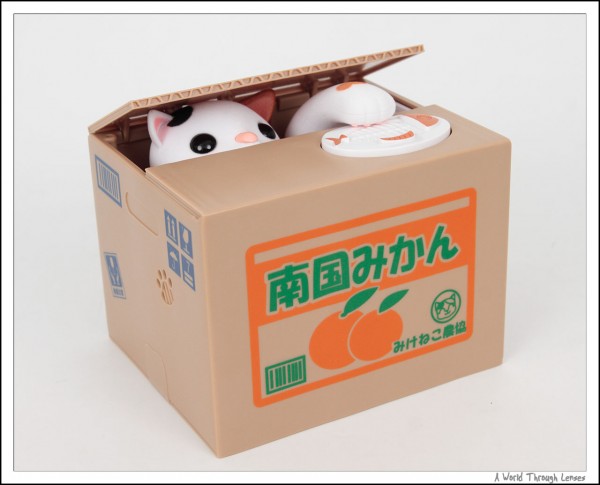 So here's a 10 seconds video that I shot for the "itazura" in action. Available in up to 1080p HD. 🙂 Now you can see why it needs those cat's paw shaped speaker openings.
So being a coin bank, you need to be able to get the coins back. So if you look at the bottom of the box, there's the battery cover on the top, the power switch in the middle, and to the bottom tot he left, there's a circular door which you can open with a coin. There you can get all the coins "stolen" by the naughty kitty back.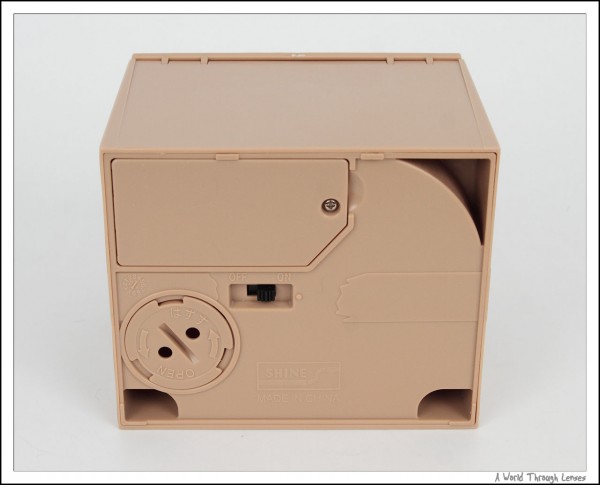 The box says 南国みかん or mandarin orange from southern country, mandarin oranges are usually associated with new years, and that Lunar new year is just a week away, I decided to take a photo of the naughty kitty coin bank with a real mandarin orange. Arrrr… I need a box of those oranges… Maybe then I can get my cat to do the real Itazura Bank. 😈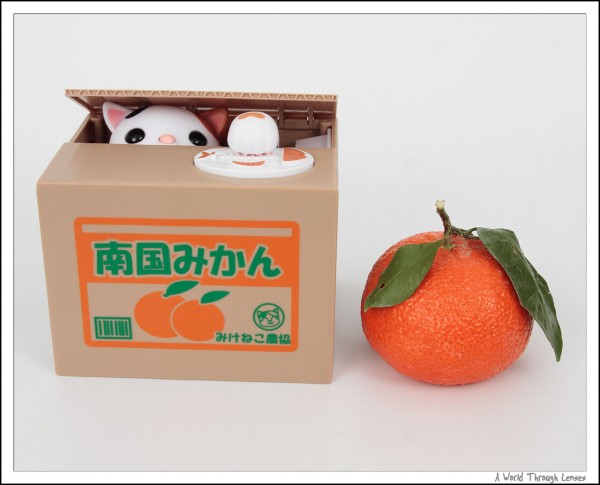 Then I got carried away and since Saber Lily is the hot topic of the month, I have Saber Lily in maid dress posing with the orange.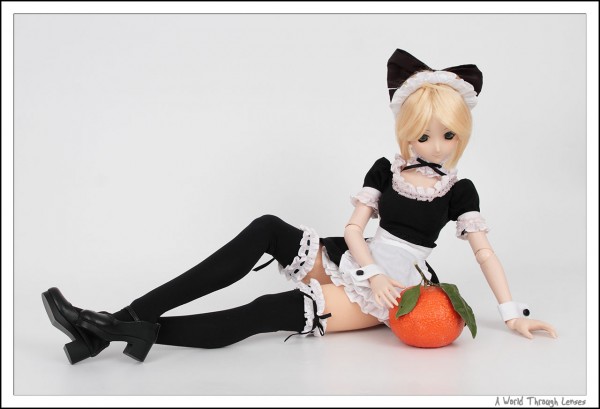 Okay one more shot before I got too carried away from the post. I blame that mischievous cat for making me go off topic. But Saber Lily in maid dress is just so cute.