Even though I never actually posted an full post dedicated to nendoroids, but I am actually a nendoroid (Official Nendoroid web site in Japanese) collector. I've owned over 20 nendoroids to date include: all five Suzumiya Haruhi characters, three Suszumiya Haruhi WonFest bunny girls, all ten of Lucky Star character with different versions, and the Mikkumiku Kagami, Itoshiki Nozomu from Sayonara, Zetsubou-Sensei, Saber lion, Hatusne Miku. And today I've just added Vocaloid Megurine Luka to my nendoroid arsenal. Well I always felt that nendoroids are more thing that I play with rather than a real collector item. But seeing how I have accumulated such a large number of them from the past, I think I should post some of them so they don't feel left out from my collection.
I actually had to fight hard to get Megurine Luka.For some reason that she sold out on pre-order really quick and I actually wasn't able to pre-order her from any of my usual Japanese shops. In the end I was only able to get my hand on her right on her release date. I refreshed few site's web page like mad and was able to find stock on Hobby Search. Purchased her quickly but when I checked back later in a few hours, it's all gone. Funny how she was not even available from Amazon Japan while most other nendoroids are. Then because I wanted to try out the SAL shipping method, I had to wait for quiet a few weeks for her to arrive from Japan. After all that, I'm glad that I finally have her.
Nendoroid Megurine Luke by Good Smile Company. (ねんどろいど 巡音ルカ). Original sculptor Ageta Yukiwo (あげたゆきを). Released on January 2010 with MSRP of ¥3,500.
Megurine Luka (巡音ルカ) is the third Vocaloid2 in Crypton's character series. Here's what she looks like out of the box.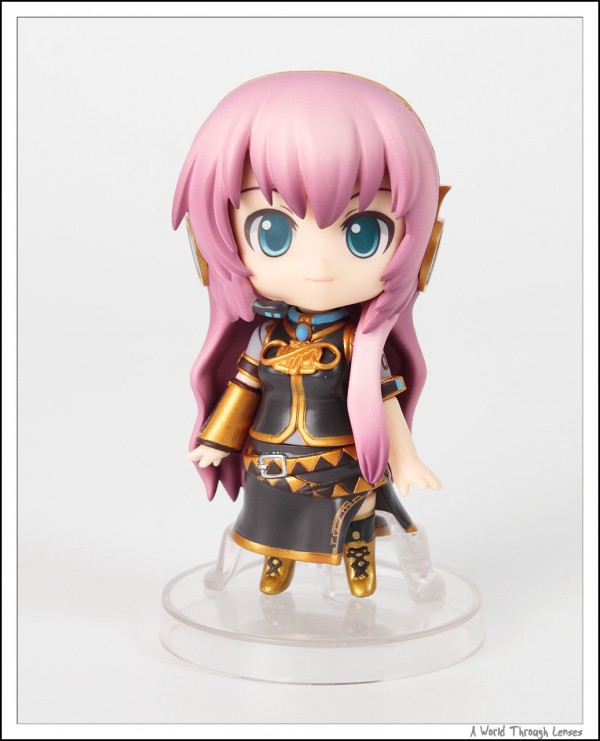 Here's the litttle Tako Luka (Octopus Luka). Cute eh? She's got all those suction cups underneath.
So here's where Tako Luca sits most of the time – right on Megurine Luka's head. Came with face and arms to recreate the pose from her song "Double Lariat". Unlike all my other nendoroids, Luka also have a new stand that allow me to pose her without the round clear base.
Also comes with a face with her eyes closed. It's nice that I can pose her without the round clear base, makes the photo look better.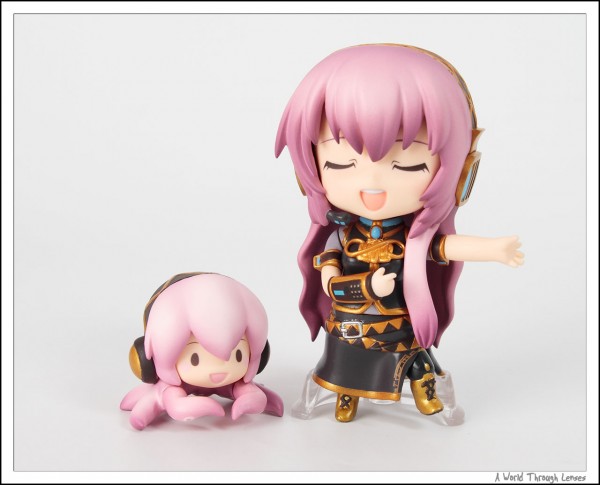 Here Megurine Luke meets little sister Hatsune Miku.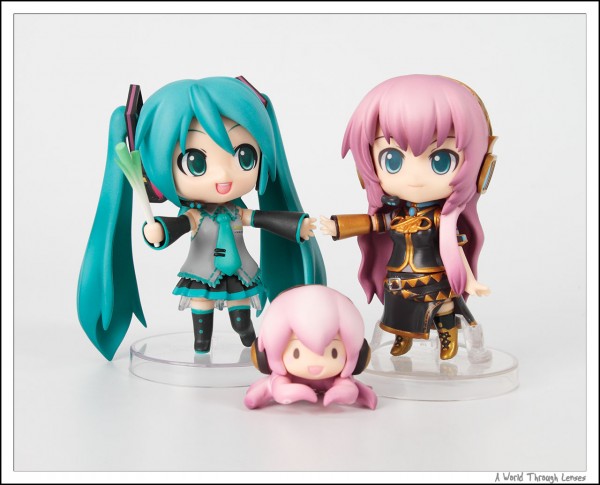 It seems that Hatsune Miku and Megurine Luka's face are perfectly interchangeable. So here we have Miku with Luka's "Double Lariat" face and Luka with Hachune Miku face.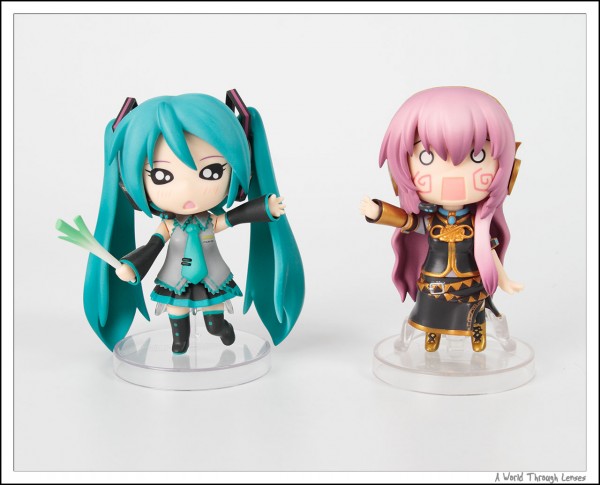 I think Luka's eyes closed face works really well with Miku. Too bad the eye brows' colour doesn't match. This should be a default face for Miku too!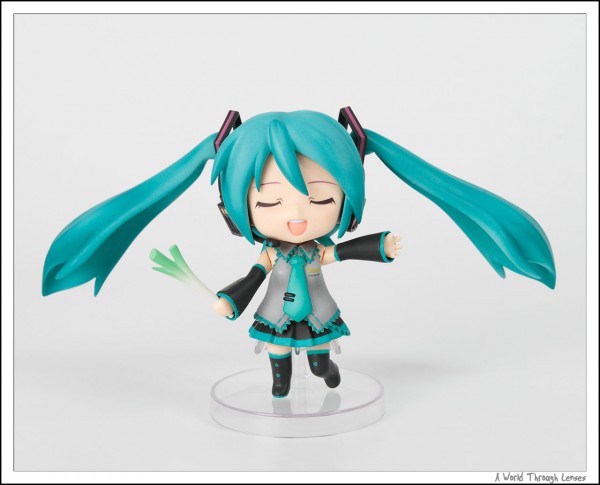 Miku's singing face work really with with Luka as well.